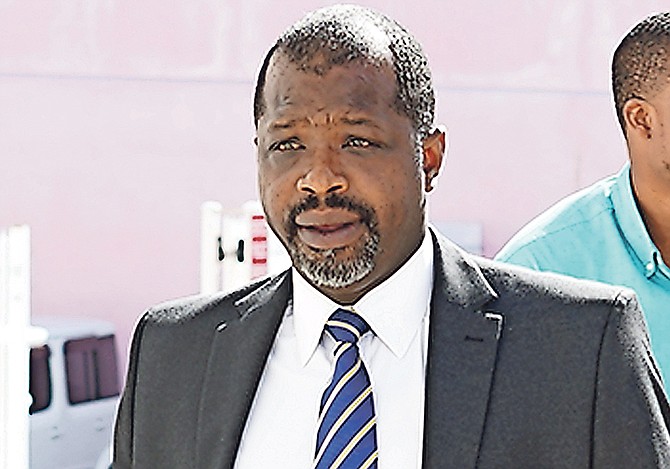 Attorney Wayne Munroe, QC
By NEIL HARTNELL
Tribune Business Editor
nhartnell@tribunemedia.net
The web shop industry's "sliding scale" tax structure could be cut to just two bands with much lower rates under new proposals being considered by the Government.
Wayne Munroe QC, who represents three web shop operators, including Island Game and Paradise Games, revealed to Tribune Business that the latest negotiations between the two sides explored reducing the six-tier operator tax unveiled in last May's budget to just two bands.
The tax rates faced by web shops would also be much reduced, Mr Munroe said, disclosing that his clients would face a 15 percent levy on taxable revenues under the latest proposals as opposed to 20 percent – the lowest rate under the existing structure.
Subsequent inquiries by Tribune Business established that the second, higher rate – which Mr Munroe indicated would only apply to Sebas Bastian's Island Luck chain – is proposed to be a flat 17.5 percent. That amounts to an almost two-thirds reduction compared to the maximum 50 percent levy on operator revenues above $100m as set out in the budget.
Mr Munroe described the 15 percent rate as more "palatable" for his web shop clients, labelling it "a good first tier tax", as the industry seeks to avoid potentially lengthy and costly litigation with the Government in the courts.
The well-known QC also revealed that the Government is exploring the possibility of taxing Bahamian gaming patrons on their winnings, rather than the current five percent stamp levy on deposits and over-the-counter ticket sales.
This would switch the basis of patron taxation to post-play rather than pre-consumption, which is something the web shop industry has been advocating for publicly in recent weeks.
Expressing optimism that the two sides' dispute may be resolved within the next week, Mr Munroe said the matter was "in both parties' court" if they were to achieve a comprehensive settlement satisfactory to all.
The web shop industry is now awaiting formal written proposals on both the patron levy and "sliding scale" tax structure, but has to get back to the Government to agree how much taxes are owed from July 1 and when these will be paid.
"We had a meeting with the attorney general and his technical team on Thursday morning," Mr Munroe told Tribune Business. "They were going to send us something to look at for our consideration as to how a winnings tax might look as opposed to patrons being taxed on their deposits.
"They're going to send us a proposal on that. They still have a sliding scale structure [for operators] but now it's two bands, and they're supposed to send us some material on that.
"To their [the Government's] credit, they appear to have taken on and considered our submissions that if patrons were taxed on their deposits it would drive many into the black market and reduce the potential spend they pay taxes on," Mr Munroe continued.
"They seem to have given consideration to that, and also given consideration to the sliding scale. They've not eliminated it, but are proposing two bands – at two different levels – of tax. We'd warned 20 percent would put three people [operators] out of business. They're proposing 15 percent to all but one person – that's a good first tier tax."
Tribune Business sources later confirmed that the second operator tax rate being considered by the Government is 17.5 percent, which would likely apply to Island Luck as the domestic gaming market leader whose revenues dwarf all rivals.
Mr Munroe's comments indicate that the Government's position has shifted much closer to that taken by the web shop industry in the immediate aftermath of the 2018-2019 Budget's unveiling, as the operator tax rates under discussion fall into the 15-20 percent range that the sector's consultants argue represents the global gaming average.
Some observers, especially those opposed to the web shops, their principals and the whole concept of gaming, will likely view the revised proposals as a climbdown by the Minnis administration when set against the tax hikes and policy objectives that accompanied the Budget.
The situation outlined by Mr Munroe also stands in marked contrast to the strident position outlined by Carl Bethel QC, the attorney general, who told Tribune Business as recently as January 4 that it was "time for lawful taxes to be collected" and that the Government was "ready to go to war" with the domestic gaming houses to achieve this.
Alfred Sears QC, the attorney representing Island Luck in discussions with the Government, declined to comment when contacted by Tribune Business. Mr Bethel, who has been leading the Minnis administration's negotiations, was equally tight-lipped, saying only: "Absolutely no comment. I wouldn't want to prejudice any ongoing negotiations."
The revised taxation structure outlined by Mr Munroe, while seemingly simpler to assess and collect, would – if implemented – likely produce a significant reduction in tax revenues earned from the web shop industry.
On the operator side, the simplified structure's 15 percent and 17.5 percent rates appear to be much lower than those unveiled last May. Under that structure, web shops pay on each portion of their revenue:
Up to $20 million in revenue, a rate of 20 per cent.

Between $20 million and $40 million, a rate of 25 per cent.

Between $40 million and $60 million, a rate of 30 per cent.

Between $60 million and $80 million, a rate of 35 per cent.

Between $80 million and $100 million, a rate of 40 per cent.

Over $100 million, a rate of 50 per cent.
Five out of seven web shop operators fell solely in the lowest 20 percent category, while for a sixth, only a small portion of its revenue fell into the 25 percent category. Only Island Luck, the market leader, will attract all tax rates.
And taxing patrons on their winnings, as opposed to the five percent levy on deposits and over-the-counter lottery ticket sales, would also be unlikely to achieve the Government's stated objectives of deterring Bahamians from reckless gambling and slowing the sector's growth.
Mr Munroe, though, said "past confusion" between the two sides had resulted from "miscommunication" and "the rough and tumble of negotiation", with the last two meetings having produced positive results.
"In my view we should be able to resolve this matter shortly," he told Tribune Business. "I'd say we're expecting it within the next six to seven days in terms of having the matter resolved by then.
"My guys, they're not happy. Don't get me wrong. In short, they're not happy, but at least they're content with the prospect of not having to spend a lot of money with me. That doesn't make me happy."
Besides settling on the industry's revised tax structure, Mr Munroe said both sides have to agree the taxes owed to the Government from July 1, 2018, to the present date.
"That did come up," he confirmed. "They've put a position to us. That's part of what we have to get back to them on in this window of six to seven days as well. It's in both parties' courts. They're considering their position on the sliding scale and patron tax, and the ball's in our court on the Government's position on taxes owing from July 2018."
The dispute has already resulted in the Government missing its budgeted revenue projections from the gaming industry, with the loss pegged at between $8-$12m for the 2018-2019 fiscal year's first quarter. K P Turnquest, deputy prime minister, recently suggested the loss for the first half may be as much as $24-$30m.
However, the Government's recent Fiscal Strategy Report declined to adjust forecasts because its legal case is "on solid ground". The gaming sector – hotel casinos as well as web shops – is forecast to generate $70m in revenue for the Public Treasury this fiscal year, having exceeded 2017-2018 estimates by 35.8 percent at $37.2m compared to initial projections of $27.4m.
The increased web shop taxation is thus predicted to almost double total gaming revenues in 2018-2019, with the Ministry of Finance is forecasting that gaming revenues will grow steadily to $73.5m in 2019-2020, before increasing further to $76.5m in 2020-2021 and $79.1m in 2021-2022.
Mr Munroe, though, conceded that "you cannot be negotiating taxation with the Government". He added that the private sector could only submit feedback intended to ensure it acts fairly and reasonably.
"No one likes taxes, but a winning tax is more palatable than a deposit tax because at least you don't pay tax unless you win," he argued. "They may have realised where this deposit tax would drive people to the black market.
"If they go with a deposit tax they might not hit their revenue projections anyway as the number of people gaming in the legitimate industry would have fallen. Doing it this way [on the winnings] may yield more revenue.
"If you'd gone and taxed deposits you might have predicted revenue based on how much people played last year, but in imposing the tax you may have people gaming less and suffer a net loss," Mr Munroe continued.
"It's like VAT. You have a 60 percent increase in the rate, but not have an equivalent increase in revenue, as the consumption you are relying on fell away because people are not buying as much due to the increase."
One web shop industry source, speaking on condition of anonymity, confirmed to Tribune Business that talks with the Government are "heading in the right direction".
"The Bahamas is the only country advancing this novel concept of taxing patron deposits before there's any consumption," they added. "And unregulated gaming is a predicate money laundering offence which could expose The Bahamas to international scrutiny and sanctions.
"It's coming to a more reasonable position than what was advanced by the Government without any empirical support. There has to be a comprehensive settlement."