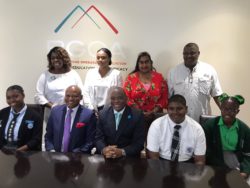 Nassau, NP
The Bahamas Gaming Operators Association (BGOA), announces its support of the Speakers Academy for high school students.
The Bahamas Gaming Operators Association (BGOA), is pleased to support this year, the Speakers Academy for high school students. The academy is led by none other than our very own Master Motivator – Mr. Spence Finlayson. The academy is in its second year and is held over a six (6) week period. It is scheduled to start on Tuesday 3rd December. This year we are pleased to support up to fifteen (15) high school students, of which, a third are from the Dorian impacted areas.
As the Author Brian Tracy, once said, "Communication is a skill that you can learn. It's like riding a bicycle or typing. If you're willing to work at it, you can rapidly improve every part of the quality of your life."
Therefore, we are particularly delighted to support this most significant endeavor, which teaches our young leaders a powerful lifelong skill to improve the quality of their lives. Too often, we encounter our youths' inability to resolve conflict through effective dialogue, which can sometimes lead to physical violence, bullying or other untoward behavior. We also see many of our young people becoming less interested in interpersonal communication, due to their comfort or escapism in a telephone, tablet or a computer screen. There are a countless number of our young people who have incredible ideas and amazing talent but lack the skill to articulate them effectively.
We are hopeful, therefore that with this six (6) week Speaker Academy, these incredibly gifted students assembled here this morning, will be able to acquire effective communication skills that will aid in enhancing their leadership capacity. As Author James Humes once wrote, "The art of communication, is the language of leadership."
On behalf of the board of directors of The Bahamas Gaming Operators Association (BGOA), and the executive management team, we are excited to support this initiative and we wish all of the participants, good success. We expect that the skills they will acquire, will afford them the ability to always be confident in expressing their own voice.
The Bahamas Gaming Operators Association (BGOA) is a non-profit organization that represents the
majority of the licensees of the domestic gaming industry. Its objectives are to promote awareness and
education of the industry and advocate for fair and equitable public policy, regulation and legislation,
based on factual data and research.
The Association exists to ensure the continued innovation and sustainability of the domestic gaming
industry for the benefit of all of its stakeholders. It will also consistently promote responsible gaming, as
part of its broader community building initiatives and overall contribution to the economy of The
For more information contact: Ms. Krista Gilbert @ 603-2083 (office) or 808-9509 (helpline), e-mail: kgilbert@bghoa.org